Jotti's malware scan
Jump to navigation
Jump to search
You may wish to obtain a second opinion about an email attachment, even if you have Anti-Virus Software for Macintosh and it does not report an infection.
Upload it to Jotti's malware scan. This website will run the file through several scanners and show the results of them all.
Case study
Hello folks,
I'm passing this along for educational value. I received, last night, and email with the following message:
"Notice to appear in court,
You may find the detailed pretrial notice attached to this letter.
Recording secretary, Diana Mason"
Attached to the email was a Zip file, containing an EXE file. So it was obviously not a letter. Now normally I would simply delete an email like this and go along my merry way, but I happened to have a few minutes to satisfy my curiosity as to the actual contents of this likely malicious message. So I fired up Kaspersky, which came free with Parallels last year. Scanned the file, both zipped and unzipped with no infection found. Slightly incredulous, I then launched ClamXav and repeated the scans with the same negative result. Refusing to disbelieve my instinct that this was one of the millions of malicious emails circulated to unwitting Windows users daily, I found a great, simple website called Jotti's Malware Scan.
Here was the result of their scan of the unzipped file...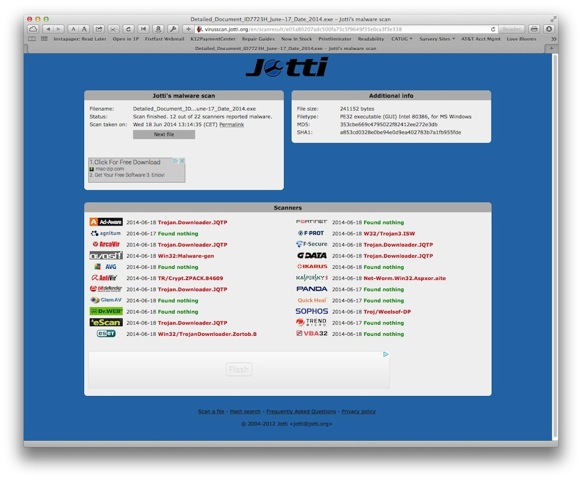 So, just fyi, don't ignore your instincts, and don't necessarily trust a clean virus scan.
in His service, David Burke
External links
Credits
Recommended on the Mac-Ministry List by David Burke in June 2014