Main Page
Jump to navigation
Jump to search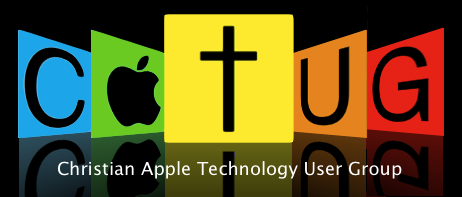 Welcome to the CATUG wiki, an interactive website of the Christian Apple Technology User Group, which is the definitive source for advice on using Apple Mac computers and other Apple technologies in Christian ministry.
This wiki is intended mainly as a repository of the most helpful information shared on our email list. If you are new to wikis, start at Using this wiki. Otherwise, explore it starting from the links to Main Topics below, or try the Search box above. To check what's been changed lately, see "New Content" below, or click on Recent Changes; you can also subscribe to an RSS feed by clicking the "Atom" link in the toolbox on that page.

We have a Statement of Faith.
To join CATUG, subscribe to the Mac Ministry e-mail list.
We also have a Facebook page – "Like" and Share it!
For links to our former websites, see the category links on this page for either CATUG or Websites (and start exploring this wiki on the way).
Recent News Items




Today's Date: February 5, 2023




February 20, 2018: We have tweaked the spam settings to avoid rejection messages. Please contact us (try Jon Glass first) if you still get rejection messages when sending to Mac-Ministry List.
January 20, 2019: we updated our warnings about the heavily-advertised product MacKeeper.




New Content

Main Topics

The following categories are available, which contain links to other topics and articles on the wiki:

If you would like to contribute to this wiki, please read the Notes for Editors page which details how to get started and what we are looking for.